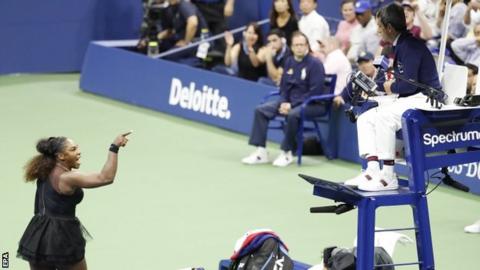 Serena Williams said she was not cheating in the US Open final and accused the umpire of sexism in docking her a game.
Naomi Osaka's 6-2 6-4 victory was overshadowed by Williams' extraordinary outbursts in the second set.
She received a code violation for coaching, a penalty point for racquet abuse and a game penalty for calling the umpire a "liar" and a "thief".
Afterwards the American said it was "sexist" to have been penalised a game.
"He's never taken a game from a man because they said 'thief'," the 36-year-old added.
"But I've seen other men call other umpires several things.
"I'm here fighting for women's rights and for women's equality and for all kinds of stuff."
The issues began when Williams' coach Patrick Mouratoglou made a hand gesture towards her early in the second set.
Williams denied she received coaching saying she would "never cheat to win and would rather lose" and demanded an apology from the umpire Carlos Ramos.
Mouratoglou, however, later admitted coaching.
Three games later Osaka was awarded a point when Williams was given another code violation for smashing her racquet.
Williams was furious, walking up to Ramos, shouting and pointing at him as the crowd started booing in support of the former world number one in a toxic atmosphere.
At the next change of ends Williams continued to rant, saying to Ramos: "you are a liar", "say you are sorry," and calling him a "thief" for awarding a point to Osaka.
"For me, it blows my mind," the 23-time Grand Slam champion said.
"But I'm going to continue to fight for women and to fight for us to have equal.
"I just feel like the fact that I have to go through this is just an example for the next person that has emotions, and that want to express themselves, and want to be a strong woman.
"They're going to be allowed to do that because of today. Maybe it didn't work out for me, but it's going to work out for the next person."
'I was not being coached'
After the match Mouratoglou admitted he was coaching but added: "I don't think she looked at me". He also said Osaka's coach was doing the same and that "everyone does it".
On-court coaching is allowed in WTA events but not in Grand Slams with the rules saying "communication of any kind" between player and coach is banned.
In her post-match news conference Williams said she was she "was not being coached" and that she "did not understand" why Mouratoglou would say he was doing so.
"I just texted Patrick, like, 'what is he talking about?' Because we don't have signals," she said.
"We have never discussed signals. I don't even call for on-court coaching [in WTA events].
"I'm trying to figure out why he would say that. I don't understand.
"I want to clarify myself what he's talking about."
US Open 2018: Serena Williams accuses umpire of sexism after meltdown in final