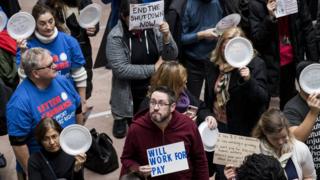 The US Senate has rejected two bills to end the government shutdown, leaving no end in sight to the record-breaking closure of federal agencies.
The Republican legislation failed by 51-47 and the Democratic bill followed suit by 52-44. Each bill needed 60 votes to move forward.
Meanwhile, 800,000 federal workers missed another payday on Friday.
At 34 days with no end in sight, this is the longest shutdown in US history.
Six Republicans – including former White House candidate and Utah Senator Mitt Romney – voted for the Democratic bill. It would have reopened the government until 8 February.
Only one Democrat backed the Republican measure, which would have provided $5.7bn (£4.4bn) that President Trump wants to build a southern border wall. It would also have temporarily shielded from deportation some US residents who entered the country without documentation as children.
Earlier on Thursday, tycoon Commerce Secretary Wilbur Ross questioned why unpaid federal workers have been visiting food banks.
Speaking to CNBC, Mr Ross said: "The obligations that they would undertake – say borrowing from a bank or credit union – are in effect federally guaranteed. So the 30 days of pay that people will be out – there's no real reason why they shouldn't be able to get a loan against it."
The Democratic leader of the US House of Representatives, Speaker Nancy Pelosi, rebuked Mr Ross, accusing him of a "'let them eat cake' kind of attitude".
US shutdown: Senate rejects bills to re-open government