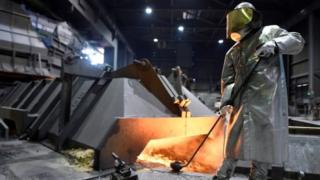 The US is to impose tariffs on steel and aluminium imports from the European Union, Mexico and Canada.
The 25% tariffs on steel and 10% tariffs on aluminium will begin within the next day.
The move, revealed by Commerce Secretary Wilbur Ross, will affect several key US allies – and Nato members – in Europe.
French Finance Minister Bruno Le Maire had said the tariffs would be "unjustified and dangerous".
The EU would take "all necessary measures" to respond if the US did impose tariffs, Mr Le Maire warned.
"It's entirely up to US authorities whether they want to enter into a trade conflict with their biggest partner, Europe," he said before the announcement was made.
US tariffs: Steel and aluminium levies slapped on key allies