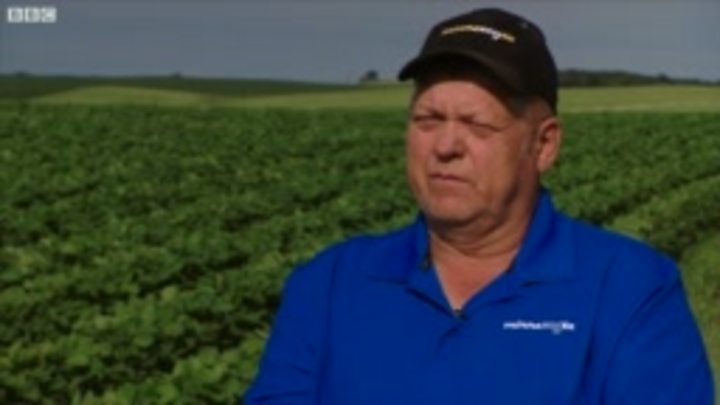 The US has unveiled a $12bn (£9.1bn) plan aimed at helping US farmers hurt by the intensifying trade war.
The aid is intended to shield the industry as countries raise taxes on US products such as soybeans in response to new Trump administration tariffs.
The US plans to provide subsidies to farmers and buy unsold crops, among other measures.
Donald Trump had promised the aid after fierce criticism from farmers, an important part of his support base.
The US Agriculture Department said the programme would provide emergency relief to offset an estimated $11bn in losses it expects farmers to incur as the trade disputes disrupt markets.
"This is a short-term solution that will give President Trump and his administration time to work on long-term trade deals that benefit agriculture and all sectors of the economy," US Agriculture Secretary Sonny Perdue said.
Exports currently account for about 20% of farm income in the US, but farmers worry the escalating tariffs will reduce demand for their goods.
Much of the $12bn in aid will go to farmers of commodities such as soybeans, sorghum, and wheat.
The US will also buy crops such as fruits and nuts, distributing them to food banks and other government nutrition programmes.
Some of the money will also go to boosting export efforts.
The first assistance is expected to be distributed by the beginning of September. The programme is not intended to extend beyond this year, officials at the agriculture department said.
Mr Trump has said his tariffs – which he described in a Tweet as "the greatest" – are intended to pressure countries to change their policies toward US exports.
In a speech on Tuesday, he said farmers would be the "biggest beneficiary" of the disputes after countries make changes.
'Trade not aid'
Industry groups that represent agriculture, as well as politicians from agricultural states, have criticised the tariffs. They say the industry does not want handouts, but trade deals that will allow exports to grow.
"Time and time again I've heard from farmers that they want trade, not aid," said Senator Ron Johnson, a Republican from Wisconsin.
"Instead of throwing money at a problem we've helped create, the better option is to take action to make it easier for our farmers — and manufacturers — to sell their goods at fair prices to consumers around the world."
US to give farmers $12bn trade war bailout