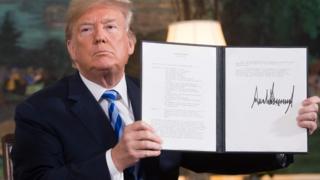 The Trump administration is to reinstate all US sanctions on Iran that were removed as part of the 2015 nuclear deal.
President Donald Trump withdrew from the deal in May, describing it as "defective at its core".
The agreement saw Iran limit its controversial nuclear activities in exchange for sanctions relief.
Barack Obama, the US president at the time, had argued the deal would prevent Iran from developing nuclear arms.
US to reinstate all Iran sanctions