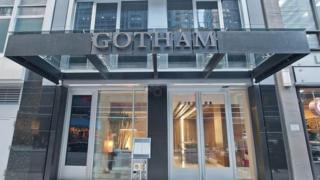 A 46-year-old woman jumped off a 29-storey New York City building while holding a 7-year-old boy, resulting in both of their deaths, reports say.
New York police say the pair, "believed to be mother and son", landed on a second floor balcony and were pronounced dead at the scene.
The investigation is ongoing and the woman and child have not been identified yet, according to police.
The incident occurred at the Gotham Hotel in Manhattan on Friday morning.
It is not clear how many storeys the woman and boy fell, but when they landed on the second floor, they sustained significant injuries, authorities told local media.
US woman holding child, 7, jumps off New York hotel tower