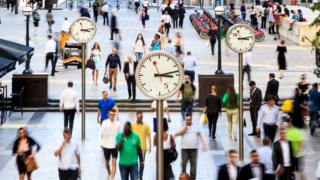 Wages rose at the fastest pace in nearly a decade in the three months to September, Office for National Statistics (ONS) figures show.
Compared with a year earlier, wages excluding bonuses, rose by 3.2% – the biggest rise since the end of 2008 and up slightly on the previous quarter.
However, the ONS warned that real wage growth was below the 2015 level.
The unemployment total went up for the first time this year, rising by 21,000 in the same period to 1.38 million.
Adjusting for inflation, average weekly earnings increased by 0.9% excluding bonuses.
"With faster wage growth and more subdued inflation, real earnings have picked up noticeably in the last few months," ONS senior statistician Matt Hughes said.
He also noted that the decline in workers from eastern European countries is "accelerating", while there had been an "uptick" in British national in work.
Why has unemployment risen?
The unemployment rate went up to 4.1% from 4.0% in the period from July to September.
Two reasons largely accounted for this – the rising population in the UK and an increase in the number of men out of work.
"Job creation since May has averaged just 2,900 a month. This slowdown in the number of new jobs opening up is likely to feed through into weaker consumer spending in the coming months," said Mike Jakeman, senior economist at PwC.
The unemployment rate of UK nationals (4.2%) was higher than that of EU nationals from the other 27 member countries (3.5%).
There was also a record fall in the number of non-EU nationals working in the UK, the biggest since records began in 1997.
Wages show fastest rise in almost a decade}