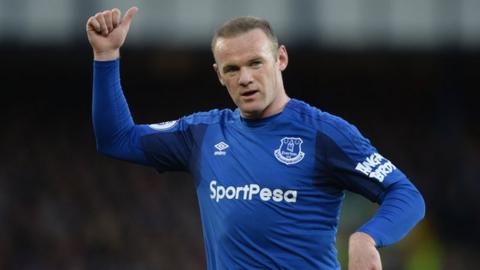 Everton forward Wayne Rooney is to travel to Washington this week to meet Major League Soccer side DC United.
The 32-year-old has already agreed a deal in principle with the club, although he still has a year left on his contract at Goodison Park.
The trip to the capital of the United States is understood to be a fact-finding mission.
Rooney re-joined Everton in July 2017 having spent 13 seasons at Manchester United.
He is the Red Devils' record goalscorer and won five Premier League titles and the Champions League.
It is understood Rooney has been offered a contract until the end of the 2020 MLS season. The US transfer window does not open until July.
Rooney, who is halfway through a two-year deal at Goodison Park, made 40 appearances for the club last season and was Everton's top scorer with 11 goals.
'Final decision rests with Everton' – analysis
BBC Sport's Simon Stone
The devil is in the detail with this proposed move. It is anticipated former England captain Rooney will be in Washington on Thursday and his trip will last no more than 48 hours. None of the first-team coaching or playing personnel will be around as they have an away game at LAFC on Saturday.
This is a fact-finding trip, a chance to understand the club and get to know some of the executive personnel.
A final decision, it is being stressed by Rooney's spokesperson, rests with Everton. And there is the crux. Rooney still has a year left on his contract at Goodison Park. That is probably around £7.5m in wages and bonuses. Before he commits to what is likely to be the last significant move of his career, Rooney's advisors will want to make sure an acceptable financial exit is thrashed out.
For their part, Everton will be looking to limit further expenditure on a player who returned amid much fanfare 12 months ago but faded after a bright start.
The bottom line is it is now more likely than it has ever has been that Rooney will be starting a new phase of his career in Major League Soccer when new signings are allowed to play in July.
Wayne Rooney: Everton forward to meet MLS side DC United this week