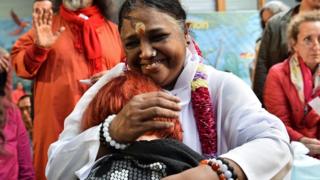 Amid a series of tweets warning against the evils of smartphone addiction, US rapper Kanye West suddenly posted a picture of India's "hugging saint".
Accompanied with the caption "sometimes we all need hugs", West also said that "Amma Mata" had given more than 32 million hugs.
Amma, which means mother, is famous for the "healing power" of her hugs. It is unclear if she has hugged the rapper.
Thousands of her devotees the world over line up for hours to hug her.
"Amma", whose real name is Sri Mata Amritanandamayi Devi, was born in the southern Indian state of Kerala in 1953.
"My message for the world is peace, love and compassion. Those are universal, like honey. You take honey anywhere it remains sweet," she told the BBC in 2012, while on a hugging mission to Australia.
She has hugged millions of people the world over, including in Malaysia, the UK, US, Australia, Brazil and Sri Lanka, and does so in sessions that last hours.
She once hugged 40,000 people over a period of 20 hours without taking a break in the Malaysian city of Penang.
She has consistently said that her remarkable stamina comes through being "eternally connected to the power source" of the universe.
People who have hugged her have talked about the "tremendous love" that emanates from her, with many breaking into tears.
"I feel my heart opens and some of the thoughts I had maybe just fade away," one of her followers from the US, told the BBC in 2003.
West has said before that his tweets are his way of "sharing his philosophy with fans". He plans to compile the tweets into a book called Break The Simulation.
Whether Amma will play a wider part in the book remains to be seen.
Who is India's hugging saint Kanye West tweeted about?}