Hayden Rucci is the next subject in Badger of Honor's Freshman Focus series, helping Wisconsin football fans get to know the incoming 2019 recruiting class.
Recruiting profile
Position: Tight End
Hometown: Lititz, PA
Rankings: 3-star (No. 23 TE, No. 472 overall)
Other notable offers: Indiana, Michigan St., Minnesota, Northwestern, Pitt, Rutgers, Virginia.
When you think of a typical Wisconsin football player, the words tough and blue-collar come to mind. You think of a player who is not afraid to battle in the trenches to move the football two yards for a first down. Incoming freshman tight end Hayden Rucci fits that mold.
Rucci received his first offer from Michigan St. after his sophomore football season. He started getting a few more offers after that from Minnesota and Duke. Then Wisconsin offered.
"The first time I visited here at Wisconsin was June of the same year when we drove out. As soon as I stepped on campus I knew this place was special and it right to the top of my list. I got some more offers after my visit but I had the feeling that Wisconsin was it for me. I kept visiting places to make sure and in February of junior year, I knew that I had found my home and committed."
Although he may not be from Wisconsin, he fits right in.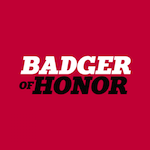 Want your voice heard? Join the Badger Of Honor team!
"Football aside, I'm an outdoorsy guy and we've already been golfing so I'm in heaven up here. I brought 3 rods with me and 2 extra reels so I'm looking for the best spots to go fishing around town."
What to expect
There are some high expectations with this 2019 class coming into Madison. There is a lot of talent coming to the Wisconsin football program, but it's pretty cool how well they all get along. I asked him what it was that makes this group so special.
"It's pretty cool the level of talent we have and how close we are already like you said. I've only been living with these guys for less than a week but I've known them for a couple of years. I think to get close through our group chat definitely made us a tighter group overall."
With Ferguson possibly leaving after this year, the tight end room might be a little bare, which means Rucci and fellow incoming freshman, Clay Cundiff, will have a great opportunity to contribute early on. He has good strong hands and can make contested catches. He is also difficult to tackle. The defense often needs two or three players to take him down.
I think his biggest strength right now is his blocking. He has a quick and explosive first step. In his film, he is consistently getting to the second level and often driving his opponent to the ground about 10-15 yards up the field.
So what kind of a person is joining the Wisconsin football program?
"On the field, a high motor player that doesn't stop until the whistle, or sometimes after. Also a leader on the field and in the weight room."
Sounds like the kind of guy that will thrive as a Badger.
Odds and ends
Often times, when we see a football player, we see them as just a football player. I think a lot of players would like to be recognized as a person, not just a person who plays for our favorite team. So in this series, if I can get a chance to talk to these guys, I want to bring up things other than just football as well.
Here are some rapid-fire facts from Hayden Rucci:
Favorite food: Steak
Favorite NFL player growing up: Gronk GO PATS BABY
Talent outside of football: If you put a song on, specifically rap, there's a 90% chance I know all the words to it.
Where would you travel: Swiss Alps to snowboard.
Siblings: One younger but bigger brother.
Sport you would play other than football: Ice Hockey for sure.
Pregame ritual/routine: On game day I'll listen to rap all up until right before I take the field. Before I go out I actually switch over to heavy metal (usually Metallica) and flip the switch into game mode.
All recruiting information is courtesy of 247sports.com.