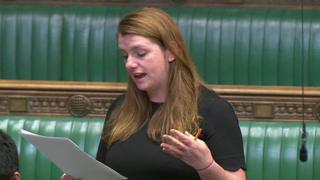 Theresa May has been urged to apologise "on behalf of the nation" to women who were pressured into handing over babies for adoption decades ago.
Labour MP Alison McGovern said "historical injustices" suffered by young mothers whose children were given up for adoption should be acknowledged.
She cited the example of a Labour ex-minister whose child was adopted after she became pregnant as a teenager.
A minister said the "appalling" practice had left a "legacy of hurt".
More than half a million adoptions took place in the 30 years before councils took responsibility for adoptions from 1976.
Prior to this, many adoptions involved babies born to young unmarried mothers, often overseen by voluntary organisations with religious connections.
There have been calls for a public inquiry and in 2016 the Archbishop of Westminster apologised for the "hurt caused" by adoption agencies acting in the name of the Catholic Church.
In an emotional speech, Ms McGovern, the Wirral South MP, said young women who had become unexpectedly pregnant were made to feel "ashamed".
"Many young women who had become unexpectedly pregnant were hidden away and were told that their child was to be adopted," she said, adding that it was hard to see how "any meaningful consent" was given by the mothers.
She recounted the experience of former Labour MP Ann Keen, who served in Gordon Brown's government.
"Her family were horrified and decisions were taken that she would move away where she would meet with a local moral welfare worker, and that's what social workers used to be called, and it was just assumed that the baby would be adopted," she said.
"This moral welfare worker told Ann the baby would cause her family hardship. She was told if she loved the baby she would give it away, she was told it was for the best."
'Least they deserve'
Calling for an apology from the government, Ms McGovern added: "Women and children were hidden away to protect the fragile sensibilities of others and it was a great injustice and then that culture of terror and shame has made them keep quiet for far too long."
Shadow children and families minister Emma Lewell-Buck said that "culturally, the 50s, 60s and 70s", when the majority of the adoption orders were made, was a different time.
"The very least they deserve is an apology," she added.
Education Minister Nadhim Zahawi, responding to the debate, said the legislation at the time was "not robust enough" as he expressed his deep regret at the practice.
"Adoptions during this period were generally handled through agencies run by the Church of England and the Roman Catholic Church and the Salvation Army," he said,
"They have quite rightly apologised for their involvement in past poor practice."
Mr Zahawi also said it was "unlikely" that a public inquiry would uncover new facts.
Women pressured to give up babies deserve apology, says MP}