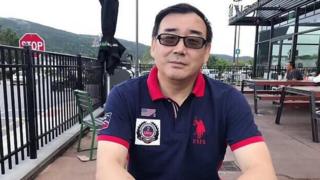 Chinese-Australian writer Yang Hengjun has been formally arrested on espionage charges in China, Australian officials have confirmed.
The Sydney-based academic has been held in Beijing since January under "harsh conditions", said the foreign ministry.
Foreign Minister Marise Payne said Australia was "very concerned and disappointed" to learn of the arrest.
"We have serious concerns for Dr Yang's welfare, and about the conditions under which he is being been held," she said.
"I respectfully reiterate my previous requests that if Dr Yang is being held for his political beliefs, he should be released," she said in a strongly worded statement.
Dr Yang, a former Chinese diplomat and noted author, was detained by Chinese authorities in January after flying into Guangzhou from New York.
Since that time, China had not allowed him access to his lawyers or family visits, Australia said.
He was formally arrested on 23 August, but until then had been held with no charge.
Only Australian embassy officials have been allowed access to him, and had visited him seven times.
A visit had been approved for today, Ms Payne confirmed.
Yang Hengjun: Australian writer faces spying charges in China}