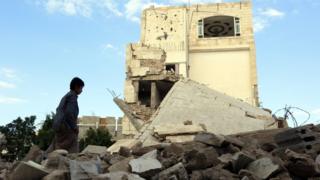 US Secretary of State Mike Pompeo has defended the administration's backing of Saudi Arabia in the war in Yemen, saying withdrawing support would undermine efforts to reach a ceasefire.
He said a planned Senate vote on such a move was "poorly timed" and would help Yemeni rebels.
Senators could vote on a bipartisan resolution to end US military support for the Saudi-led coalition this week.
The three-year war has caused a massive humanitarian crisis.
The conflict between Saudi-led military coalition and Houthi rebels has killed thousands of people and pushed millions more Yemenis to the brink of starvation.
After Wednesday's closed-door briefing with senators in Washington, Mr Pompeo said the US was "on a cusp" of gathering the warring parties for talks "to hopefully achieve a ceasefire".
A vote, he said, would "encourage the Houthis" and their Iranian allies.
Mr Pompeo also addressed criticism of the administration's stance on the murder of journalist Jamal Khashoggi.
President Donald Trump has dismissed a reported CIA assessment that Saudi Crown Prince Mohammed bin Salman was to blame for his killing in Istanbul in October.
"There is no direct reporting connecting the Saudi crown prince to the order to murder Jamal Khashoggi," Mr Pompeo said.
The BBC's Barbara Plett Usher in New York says opposition to the war in Yemen has gained momentum because of outrage at the administration's response to Khashoggi murder and many in congress want a tougher stance from the White House
What have the Yemeni sides recently agreed?
Houthi leaders have said they are ready to move towards a ceasefire if "the Saudi-led coalition wants peace".
The coalition has recently ordered a halt in a fierce offensive on Hudaydah, a port on the Red Sea. They have also said that they support the UN-led talks.
The UN special envoy to Yemen, Martin Griffiths, has said he hopes peace talks convene before the end of the year.
The Houthis failed to show up at peace talks in September.
What is behind the conflict?
The conflict began in 2014 when the Houthi Shia Muslim rebel movement took advantage of the new president's weakness and seized control of northern Saada province and neighbouring areas.
The Houthis went on to take the capital Sanaa, forcing President Abdrabbuh Mansour Hadi into exile abroad.
The conflict escalated dramatically in March 2015, when Saudi Arabia and eight other mostly Sunni Muslim Arab states – backed by the US, UK, and France – began air strikes against the Houthis, with the declared aim of restoring Mr Hadi's government.
Yemen conflict: US defends backing for Saudi-led coalition}